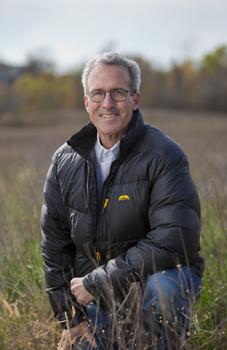 Photographic art offers a unique perspective on the world...a way of seeing things that transcends the ordinary. It's that moment captured in time when we slow down long enough to truly see the unique nature of scene that would otherwise forever pass us by. The artwork featured on this site is designed to remind us of the awesome beauty that surrounds us daily, and to open our eyes to a new way to look upon our world. The artist is merely the translator. The beauty comes from a much higher source.
Biography
John Leifer began his lifelong passion for photography when he first picked up an aging 35mm camera at the age of 13. Two years later, he was hired as a team photographer for the Kansas City Royals' baseball team. Though John loved the excitement and split-second timing of sports photography, it was photography's ability to capture unique views of the world that intriqued him most.
John quickly became one of the top-selling photographic artists in his region. His work was initially displayed at numerous local galleries before garnering national attention. John's first major one-man show was at the age of 23, when he was invited to exhibit his work at the prestigious Manhattan gallery, "Images".
Today, John's collection of photographic artwork spans more than four decades of work. His images range from stunning landscapes to poignant photo-journalistic portraits. His pursuit of photographic art has taken him from the fjords of New Zealand to the streets of Chicago. His passion for revealing new ways to look at the world remains as intense today as it did the day he picked up his first 35mm camera.
Representative Clients
John Leifer's photographs can be found in numerous private collections, as well as major corporate installations. A significant number of John's clients come from within the health care industry, where clients have shown a keen appreciation for the healing nature of his images.
Health care clients appreciate the intense beauty of the images, coupled with their affordability. At a time when health care organizations face tremendous budget constraints, they do not have to sacrifice quality and beauty to achieve affordability. Recent installations include:
Saint Joseph Medical Center, Kansas City

The hospital has amassed a major collection of John's works. The photographs can be seen throughout all the major corridors of the hospital.

Saint Luke's Health System, Kansas City

A prime example of the use of healing images by John. Photographs span multiple hospitals and can be found in areas ranging from neonatal intensive care units to medical intensive care units.